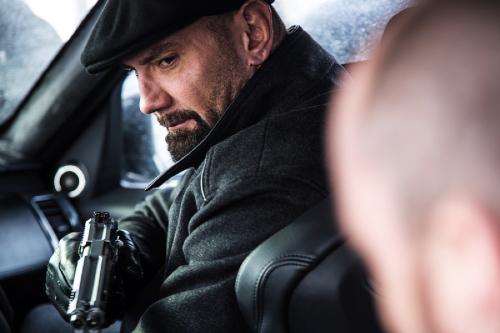 After rising to fame as an MMA fighter and then Guardians of the Galaxy's no-nonsense bruiser Drax the Destroyer, Dave Bautista will show off a more nuanced and debonair side as the henchmen Mr.
Hinx the new James Bond movie 
Spectre, 
directed by Sam Mendes.
"When I came over to meet Sam, I only asked two questions," Bautista told Empire Magazine in its new cover story. "I asked him if Mr. Hinx was a badass. He said, 'Yes, he's a badass.' I said, 'Well, is Mr. Hinx intelligent?' He said, 'Very.' That's what I like about Mr. Hinx. He's very well-dressed and very well-mannered. I'm not just here to fight people. He has a sense of humor." He also added, referring to Drax's difficulty with figures of speech: "He definitely knows what a metaphor is."
The character, who sports a dense goatee and newsboy-style cap in the first-look image published in the magazine above, will chase Daniel Craig's Bond to the Austrian Alps, where he will try to kidnap Dr. Madeleine Swann, played by French star Léa Seydoux. (Monica Bellucci plays the other "Bond Girl" in the film). The burly Bautista "slimmed down" to 265 pounds for the part, which will likely be the second-in-command baddie in the film.
The big villain will be played by Christoph Waltz, who many had suspected would be playing Bond's classic nemesis, Blofeld. But just as Waltz first promised at a press conference in December, producer Barbara Broccoli insisted that he will not be portraying a new version of the Bond baddie.
That being said, the film will still have plenty of more old-school elements, with Broccoli and director Sam Mendes promising a slightly more breezy installment than the previous movie Skyfall, with big action scenes (including a plane chase in Austria) and some (slight) humor. For more on the film, head on over to Empire and download their new issue, and watch the newest set vlog released by Sony, which you can see below.
A quick tease: The video shows some footage from the film's shoot in Rome, including a speedboat chase up a river and a shootout that Bond evades thanks to his speedy Aston Martin. Mendes also discusses Bond's newfound seniority over the rest of his team, which includes the new M (Ralph Fiennes), Q (Ben Whishaw) and Moneypenny (Naomie Harris).
---