'Saw' Writers Hired to Tackle New 'Halloween' Horror Movie (Exclusive)
expand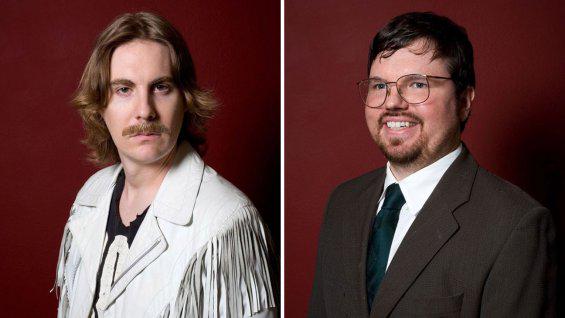 The writers Markus Dunstan and Patrick Melton, who wrote the last four parts "Saw", will script a new "Halloween" for Studio Dimension Films.
The name of the Director of the new film is not yet called.
Views:
burleyqgirl 
Ugh. Not that the Halloween concept isn't okay, but a huge part of what made it a classic was just the execution. I mean, the story is basically "kid is psycho for no particular reason, kills family, grows up, is weirdly resistant to harm for no particular reason, kills lots of people." There's really no reason why we need remakes or reboots or "recalibrations" every five years, other than that they're banking on the franchise name to distinguish their formulaic slasher from all the other formulaic slashers.
WRITE SOMETHING BETTER
Guild_Navigator
They're going to reboot Halloween again? Jesus...
James Harrah

 
Another 'Halloween' eh? Lemme guess: new faces to match the already replaced faces (Zombie's H2 had a different young Michael than his previous), gore, boobs, more gore, more boobs...and absolutely no scares at all?????
Believe me when I say that some people actually watch these movies to get scared...not just look at boobs, or overdone gore which reaches a point of unbelievability at times. Yes, too much blood can lead to 'too much of nothing'. But Hollywood really does not care about craft as long as a buck is to be made. Carpenter has been laughing all the way to the bank with this series but when he made the original, he made something (to me anyways): a true horror movie. The sex was minimal, the violence is very tame actually, but, its what he did with shadows, and things that go bump in the middle of the night. THAT is true horror: what you can hear but not see, and what you do see is not what you thought it was. Hollywood very rarely cares about those things now. Its all, sex, sex, full frontal, sex, sex and digital gore. They need to actually learn how to make an ACTUAL horror movie, than a dud 're-image', 're-boot', 'recycle' or 're-what-the-hell-ever', full of torture/sex due to an adolescent need for porn. Get a grip Hollywood! Your insulting your audience with crap they can get on any 'bunny' channel. Scare us damn it!! But, without all the cliches of today....IF you can. Who am I talking to? Prolly, nobody.Oh, and enough of 'POV' being a camcorder! Give it a rest too. Its been done to (pardon the pun), to death! No longer scary.
---
Published by
Tommy
, 11.02.2015 at 16:48
Понравился наш сайт? Присоединяйтесь или подпишитесь (на почту будут приходить уведомления о новых темах) на наш канал в МирТесен!
1
Показы:

1
Охват:

0
Прочтений:

0
---